The National Consortium of Breast Centers
Earn Your Cancer Genetics Risk Assessment Certification: CGRA™ Online
Competencies covered by genetic counseling training and maintenance of certification Genomic discoveries are increasingly being applied to the clinical care of patients, particularly in the field of cancer genetics, risk assessment and targeted therapy. In addition to genetic counselors who are experts in the field of cancer genetics with, there is a need for clinicians across the spectrum of practice to acquire knowledge and competency in clinical cancer genetics & cancer risk assessment at the point of service as patient care moves to more personalized approaches in cancer screening, prevention and targeted therapy.
NCBC's Certification in Cancer Genetic Risk Assessment has been developed to acknowledge the healthcare professional with clinical experience and advanced knowledge in cancer genetics and cancer risk assessment. The purpose of this program is to provide assurance that the healthcare professional with CGRA certification possesses the knowledge, skills and competency to provide cancer genetics risk assessment clinical services to patients and their families.
Preferred candidates are physicians, advanced practice nurses, physician assistants, or other skilled practitioners seeking to demonstrate competency and requisite knowledge in clinic cancer genetics & cancer risk assessment, with a commitment to ongoing learning and professional development in this rapidly advancing field.
Certification Eligibility: The applicant must:
In order for an individual to be eligible to apply to take the Cancer Genetics Risk Assessment (CGRA) Certification Exam and to receive certification eligibility notification, a candidate must meet all of the following requirements:
Licensure: Comply with all state requirements for current and unrestricted licensure as a registered healthcare professional - physician, registered nurse, advanced practice nurse, physician assistant.
Education: Complete a minimum of 60 hours of relevant education, training activities in cancer genetics and cancer risk assessment.
Experience: Complete minimum of two years of clinical practice experience in the field of cancer genetics, cancer risk assessment.
NCBC conducts the certification program independently of any specific class, course or other education/training program and is also independent of any provider of classes, course or programs. The assessment is not designed to evaluate mastery of the intended learning outcomes of a specific class, course or program, nor is NCBC, as the certification program provider, the sole provider of any education or training that may be required for certification. NCBC's certification program is also not responsible for accreditation of educational or training programs or courses of study leading to the certification.
There are multiple pathways and educational resources by which a candidate could acquire the requisite specific areas of knowledge for competency as a healthcare provider in cancer genetics and risk assessment.  Resources may include self-study, practice-based education, online course/web-based study, review of professional journals or in-person courses for healthcare providers in cancer genetics and cancer risk assessment.
For any questions regarding CGRA™ certification
please contact
NCBC Certifications Manager
Aerial Gilbert
aerial@breastcare.org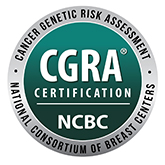 The benefits of becoming certified include:
The aim of certification is to recognize professionals who meet established knowledge, skills or competencies previously acquired in a specialty area of practice.
Professional certification is a voluntary process by which individuals are evaluated against predetermined standards for knowledge and reflect current best practices and accepted standards in a specialty area of practice.
Participants who demonstrate that they meet the standards by successfully completing the assessment process are granted certification which is time limited.
To maintain certification, a certificant must engage in ongoing activities designed to enhance continued maintain competence.
Certification provides acknowledgement that participant has acquired the required education/training and demonstrated accomplishment in a specialty field of practice.
Value of continued certification includes:
Continued learning that improves effectiveness, safety, and efficiency of practice

Demonstration of commitment to increase knowledge and job performance over time

Recognition by insurers, regulators, hospitals, public, or clients as meeting high standards

Continuous alignment with evolving industry requirements and standards

Better processes, improved outcomes, and/or cost savings associated with job performance

Improved likelihood of greater adherence to evidence-based guidelines for care
Apply Today for your CGRA® Certification